Marble Society
Named after long time Wilmington College President Samuel D. Marble, the Marble Society recognizes individuals who have supported Wilmington College financially in one of the three following ways:
By making a will bequest
By funding a planned gift
By creating an endowed fund
These types of gifts are special because they ensure that the College's tradition of success will grow and flourish. The legacy created by these gifts will shape the life of the College for many years to come.
Marble Society members are eligible for a number of benefits.
Their gifts will be publicly acknowledged, although anonymous memberships are available. Potential members need only notify the Society in writing of their eligibility, stating the date and type of gift.
An Invitation to Join the Marble Society
Members of the Marble Society have expressed their commitment to Wilmington College through a very special and important form of financial support.
These donors have named Wilmington as the ultimate beneficiary of a planned gift. Such gifts might include a bequest and/or charitable income gifts, such as charitable gift annuities, charitable remainder unitrusts, charitable remainder annuity trusts, or gifts of life insurance.
Once you complete your estate plans, please fill out our member profile form to let us know. We would like to thank you for your generosity by including you in the Marble Society.
Membership Benefits
Your membership involves no dues, obligations, or solicitations, but it does allow us to thank you and recognize you for the plans you have made, and it may inspire generosity in others.
Benefits of membership in the Marble Society also include annual luncheons, invitations to special events and seminars and a subscription to our newsletter.
The most important benefit, however, you will receive from joining the Marble Society is the satisfaction derived from making a lasting contribution to our long-term prosperity.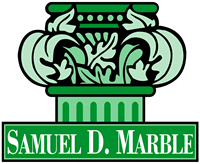 Samuel D. Marble served as the twelfth president of Wilmington College, from 1947 to 1959. He was a visionary leader during the post-war years when the College faced a turning point in its ability to serve its students.
On April 13, 1948, Marble rallied the students to a cause which continues to have an impact on the life of Wilmington College - the construction of a new dormitory to be built with student labor.
In addition to Marble Hall, named in his honor, an additional six buildings were erected on campus during his tenure as President. He increased the number of faculty and added new academic departments. Enrollment rose to above 700 students.
The legacy that Sam Marble created has served as a solid foundation for College growth and as a model of involvement and service for later generations of students, faculty and College administrators.